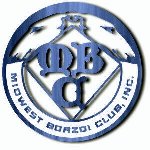 MIDWEST BORZOI CLUB, INC.
2017 schedule
Friday, October 6, 2017 - AKC lure coursing trial for borzoi only, Twin Towers Park, Yellow Springs Ohio (located near I-70, between Dayton and Columbus). premium for October 6. Entries to Denise Tresselt. (Trials for all AKC sighthounds, October 7 and 8, same site and same secretary. OKIGO premium for October 7 & 8).
October 21 and 22 AKC lure coursing trials, Junior Courser tests, Qualified Courser tests (open to all-sighthounds) at Stoney Run park, Crown Point Indiana. Entries to Betty Veitch (note new email address for Betty) 1004 Esmond Dr., Rockford IL 61108-4136. $15 trial entry fee, $15 JC and QC test fee. Premium
AKC lure coursing entry form
Directions to Stoney Run Park 145th Avenue, east of Crown Point Indiana: From I-65, exit at Crown Point route 231, & go east on route 231 (away from Crown Point) about 3 miles. Just past the small town of Leroy, turn left (north on 145 th Ave. There is a Stoney Run Park sign at this intersection. Follow 145 th Ave about 2 miles to park (on left). There may be a charge per vehicle, charged by the park. The park gate will be unlocked at 7 am. If coming from the east, take Route 2 from Valparaiso south to Hebron. In Hebron, turn right (west) on route 231. Go about 4 miles to Stoney Run park sign. Turn right, and when the road makes a T go right again and follow to the park.
HOME This page was last updated August 15, 2017 © 2017 Midwest Borzoi Club. All Rights Reserved.